-YTK 21st Parade Preparation Post Ft. Glory Of Vanity: Prince Tak's Three Dimensions & More
~THE OFFICIAL YUTAKI'S 21ST~
~BIRTHDAY PARADE~
~PREPARATION POST~
'
'
YES! in less than 12 days, yutaki will turn 21!!! its a VERY VERY VERY important day! at least to me, i had been planning on my this year's birthday celebration ever since last year dec. this year, i m going to celebrate the best way ever, (of cos, within my limits, not those those trip to moon celebrations.) && this is officially the preparation post, review the bits and parts of what, where, who, when and how my birthday will likely would to be.
ARE YOU EXCITED!?
i am.. VERY excited! and all my close friends are as excited as i m,
last year, i had one of my most wonderful party ever, my 20th swim suit birthday party:
http://yutakis.wordpress.com/2008/05/18/happy-birthday/
its not only the best day ever, also one of the top 10 post on my blog, and i was recognized as one of best graphic designer blog because of that post!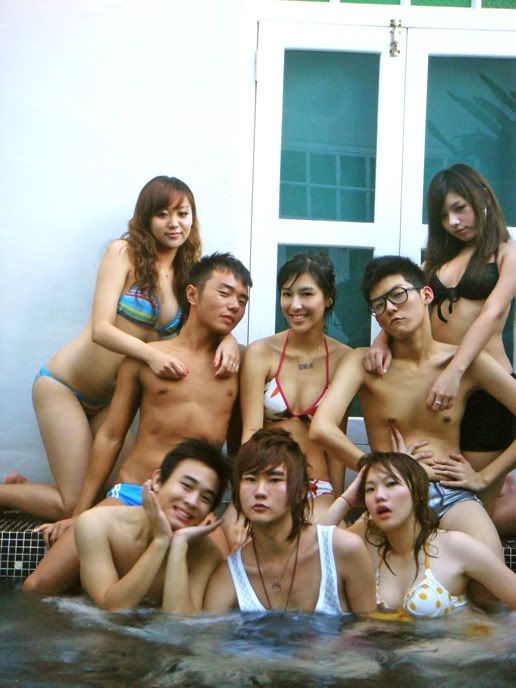 '
'
THEME:
well, 1st we have to get right with the theme. many of you loved last year's post due to the nature of less clothes, my hot friends were in bikinis, but too bad, horny assholes, this year i m not doing a bikini party again… but…a UNDERWEAR PARTY!! turn on or not?!
HHAHHAHA, i m just pulling your balls..
the actual theme is..
'
'
'
'
'
'
'
'
'
'
'
'
'
'
– miss grethy…. wish she could be here for my birthday…
PROM NIGHT
YES!! more classy~ more matured and the real meaning behind the whole prom thing is a celebration of one entering into another stage of life, just like my meaning of celebration, of my 21st birthday, i m officially becoming an adult.
another reason of choosing the theme is.. i never really enjoy my prom when i was younger, at all, not a single bit. SERIOUSLY, 1stly, i looked like shit, then i dressed like shit. again, my secondary days is even shittier, and people there i met were the shittiest (most of them). though i made my closest friends in my whole life there, but i also made (far too) many enemies there. horrifyingly, my secondary school days were full of sickening fugly (you know what i mean, insideout.) people. (if you think i m referring to you, yes, i m referring to u.) people whom i never ever want to keep in touch in my life again.
'
'
how shitty greth and i looked like during our prom night , she still had her braces on that time. and i wore a purple jacket to prom! g(r)osh.
time flies, we look totally different from then.
so to turn my whole bad prom experience thing, into a good one, i decided on this theme. so when i grow older i could burn all my actual fugly prom pics and show off my fabulous fake 21st birthday prom themed party pictures. aha.
and also 21 is last year that you could attend a prom, to avoid any other sub-tags like "too old to be student" or "taken too long to graduate".
'
'
then comes to the
Venue:
last year, i celebrated it at new majestic hotel. this year, i decide to do it at the same hotel, but a bigger room.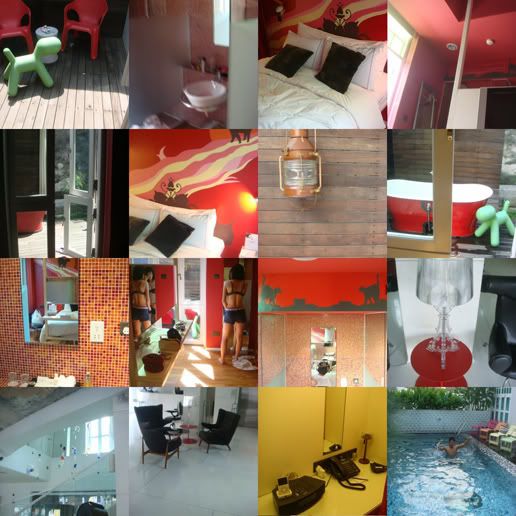 hopefully, will get a room design that more suits my theme, prom night~~
'
'
Ride:
What is a prom without a limo?
here's the only 2 nine seater choice in Singapore.
this
and this
of cos, i m not retarded to rent that limo truck. i m renting that long white limo!! ( i m not telling you how to rent it, it took me 3 days to find the contact of that pretty thing) this car is love at 1st sight. & it looks so gossip girl! i know right.
'
'
Party Flow Plan:
check in on 17th of may, 1400. at new majestic hotel. will check in with siyoun and erica, will have a small party of three 1st. then, close friends will be arriving anytime between 5 to 7, after much considerations, i will only inviting very close friends to the hotel party, limited to only 5 person. then will have dinner at the hotel. the other friends that i might invite (unsure who yet.) will reach at 10pm. by then, we will be all dressed up, strictly formal wear and prom dresses. Limo will pick us up at 11.30 sharp, cruise around clark quay area, and when the clock struck 0000, 18th of may ( my birthday), a toast followed by a birthday song singing, on the limo, and will arrive at the next party at zirca around 12.30am to 1 am. and i will meet my other friends whom i invited, total head count less than 10 person. (hate huge parties like i said.) then will be back to hotel around 5 to 6 am. next morning, will probably go for a lunch with diamonds and a karaoke session.
guest list:
hotel party
restrict to close friends only,
Wendy Chueng
Eric lim
Kim Siyoun
Daphane Wang
Limousine cruise:
Nicole chen
Jolin Lim
Wendy Chueng
Eric lim
Kim Siyoun
Daphane Wang
Zirca Party:
list yet to be confirmed,
less than 10 guest will be invited.
Invitation card
will printing this out, and given to my dear guest before the party~
this year's design made from GOV may, and color combination of black, champagne gold and yellow. classic and with a touch of yutaki in it.
well, this is the last year's invitation card design:
envelope:
front & back design:
'
'
'
'
'
'
'
'
'
'
'
'
'
'
this year's design:
'
'
'
'
Blog header:
Celebration blog header! will hang this piece of art work, on my birthday week! looks cool hurh? its the black jack, total number of 21! and one more, the shadow, but still considering on which to post up…
'
'
A gift for Everyone!
i am so generous right?! i knew it, hahahah, not quiet true. i was was being sponsored again, by
they are providing a promotion just for yutakis.wordpress.com readers! just for my birthday period! so nice right! so grab this limited promotion chance and replenish your mask stock!
alright here's the promotion price chart:
Usual Price
YTK Promo
Shiseido Black Mask
$1.50
$0.99
Shiseido White Mask
$1.50
$0.99
Dainty
All in One Collagen Mask
$1.50
$1.00
Lavender Mask
$1.20
$1.00
Rose Mask
$1.20
$1.00
Citronella Mask
$1.20
$1.00
Lotus Mask
$1.20
$1.00
Aloe Mask
$1.20
$1.00
All Hokkaido Lover Mask
$1.20
$0.99
All Scheming Beauty Mask
$1.20
$0.99
All Crystal Eye Mask
$1 – $1.25
$0.88
Promotion Period from

7/05/09 – 20/05/09

Promotion Code:

YTKPROMO09

*** Free Normal Mail Postage only applicable for purchase above $50.00
***Oversea Buyer need to bear the full postage charges! 😀
*** Registered Mail additional 2.30
REMEMBER, to enjoy this limited super saving mask spree offer, u had to include
YTKPROMO09
this code, or else, no discount! get it?
well, need me to say no more about their products, read my advertorial for their site:
http://yutakis.wordpress.com/2009/03/04/101-about-yutakis-skin/
hurry up! go to:
one more day, with that lousy complexion of yours, i will want to die. so what u waiting for?
'
'
A GIFT FOR ME!
its birthday month, i got my reader a promotion, where's my present?? well, there's a way! just rally me in this blog contest hosted by OMY!
http://sgblogawards.omy.sg/category/
under the category of "BEST MODELING BLOG"
i swear i do not wish to win this blog contest! i swear! i do not want to compete with those pretty girls and handsome guys, i just want you people to rally me! cos the most rallied top 5 bloggers gets a free phone!
YES A PHONE! though i already got a phone, but after loosing 2 prada phones, i think its fair for me to win one phone back as a "payback" in a more moral way? don't you think so? i did not steal! so people! rally me!
o/s: i know, i know, rallying in that site is effing troublesome, got to sign up for a account… but but… no buts! just rally me! i deserve a HTC touch diamond!
anyway~~
to share some discovery,
http://kr.blog.search.yahoo.com/search/comm?b=31&p=http%3A%2F%2Fyutakis.wordpress.com&subtype=CommBlogDetail
i found out that my blog is under the 100k on yahoo korea blog chart! yes i know not top 1o or 100, or 1k, or 10k, but 100k. but the crazy thing is.. i m not blogging in korea! and my blog in English! come on! not even xiaxue's blog is under that Korea blog chart lor! ( she already conquer the world, just donate that piece of land to me.) and my blog is top 100k among the 4.5 million korean blogs~ it is something to be proud of, i m not show off, just off showing.
'
'
talking about korea.. there a number of people are using my pictures on the net, one of them is this :
he is using my pics by the name of
김하늘 on facebook, he is getting chicks on the net with my pics. to warn my readers, that's not me, i dun have any Korean names…yeah, facebook, still alright, friendster is madness!! i have seen many profiles with my pictures, but not using my name. so beware who u meeting online, people! and its not the 1st time, people are using my pics on some stupid Mirc chat rooms.
i only own twitter, facebook, friendster (two accs) and this blog on the net, and i also did provide my real site URL on my sidebars, so anywhere else u have seen my pics, that's not me.
&&&
i already started receiving gifts, & wanted to blog in this post actually… but no! i want to off show them at one shot! which will be on my birthday post.. hahahhaha!
and here's the pictures taken on fabulous tan marketing manager's birthday, he's a friend of erica.. i wanted to blog about these pics on my birthday post, but if i do, its a bit out of the topic, and these pics are ALREADY 1.5 months old, so will not delay them further~
yes! happy belated birthday zepron. he is one of nicest guys in fabulous tan, very humble and sincere person. best wishes! =)
'
'
extra, i found this on the entrance of fabulous tan on his birthday… VERY MEAN RIGHT!? dun know who's the asshole who prank him like that~ but indeed i laugh like mad when i saw it, see! i will make sure this will never happen on my birthday, if anyone dares to sabotage me on my birthday, i will kill them. cos under the law of yutaki, birthdays are to be glamorous, not to be embarrassed!
'
'
later that night, we went to party~ actually, that's the day i lost my second prada phone, a night out with out a phone… feels insecure a little… hahahha.
saw martin's close fren, its been years not seeing him~~
'
'
—
Glory Of Vanity: Prince Tak's Three Dimensions
yes, finally, my long anticipate GOV may, my birthday month glory of vanity. i bought this prince vest esp for this month's GOV from my fav korean website. can possibly re wear it on this year's halloween! hahaha! something like a combination of "GONG" 's prince suit and "my chemical romance"'s parade uniform.
its actually, separate into 3 sets, dawn, dusk and twilight. three all different type installations and edits.
Dawn – lighting effects, shadows and mystery.
Dusk – Dark, Party lights, and flashing light intense.
Twilight – Prince oriented, logo installations and learnt the new way to adjust colors, exclusion.
p/s: wish me luck on my coming birthday! will update soon! =D
TILL NEXT TIME
WITH LOVE